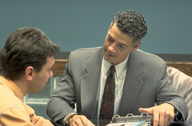 Seminole Accountants, Inc. provides confidential consultations. Ranging from individual and corporate tax and business valuation to financial strategies, these consultations are designed to assist the client in making more informed decisions which they may face.
Scheduled by appointment only, our staff can assist our clientele and those individuals who seek assistance in preparing their own tax returns or financial statements.
Consultations are not limited to the above mentioned services.
Visit our customer contact page...
---
Copyright © 2000 Seminole Accountants, Inc. All rights reserved.
Disclaimer